Latest Inquiries of HEXON Niobium Sheet in July, 2020
Views: 1717 Update date: Aug 10,2020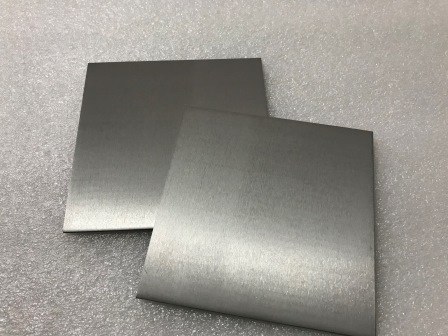 HEXON specializes in Niobium Sheet and its alloyed products, beginning from electron beam melted ingot to milling forms, as well as fabricated precision parts. We melt tantalum and niobium ingot twice by 300kW and 600kW EBM furnace. The two times of smelting in the high-vacuum, high-current-intensity and high-power EBM furnace ensure a homogenous structure, and dramatically reduce impurity content. We at Hexon Metal Technology committed to supply higher melting point meals as well as alloy in different shapes that also ranging from micro fastener in grams to forged piece in ton. However, we follow the industry standards to meet our customer needs or we can also develop internal standard of the specific enterprise. Most importantly, we use advance technology for the manufacturing process and supply every product with high quality. We put much effort during engineering assistance as well as after-sales service so we produce better quality products always. Niobium sheet is one of the lightest refractory metal it has high melting temperature. At the same time, the property also allows its alloys to provide structural solutions at increasing temperatures.
As the most reliable and experienced Niobium Sheet manufacturer, we got many inquiries from our potential clients every day, and we would like to share some of them with you:
| | | | |
| --- | --- | --- | --- |
| 联系人 | 留言内容 | 留言日期 | 电子邮箱 |
| M.S*** | Heating Element requirement: Furnace KW -90KW (Step down transformer 90KW/3Phase/110v) Size of the coil -650mm Dia. (Furnace internal size-600mm and Length 900mm) Length of the heating element-950mm Graphite strip heating element required. Pl send me quotation and catalogue. | 2020-07-24 16:22:53 | s***@gmail.com |
| K*** | Hi, Can you provide quote for Platinum pellets 4N, 3mm x 3mm. 50g | 2020-06-17 17:36:00 | k***@***.com |
| R*** | Good Day, This is Raymond Smith,I want to order Zirconium Sheets ,that you have in your shop.I want you to get back to me with the price including taxes and I want to know do you accept Credit cards as your payment.Hope to hear from you soon. Thanks for your Cooperation. R*** | 2020-06-15 22:07:04 | r***@gmail.com |
| L*** | Dear, We are looking for titanium foil 0,025mm thck, 25x75mm dimensions and minimum purity 99,98%. Please let me know a quote for 1, 5 and 10pcs. We are also looking for the same foils in Ti-Nb, Ti-Ru and Ti-Ce alloys. Please, if available, quote these for the same quantities. Looking forward to hearing from you, | 2020-05-19 22:24:48 | m***@***m.com |
| K*** | Looking for Titanium tube Grade 5 preferably Size: 0.203 INCH diameter, 4.5 INCH min length, 0.005 INCH Wall Thickness Thanks, Kamal Frikach USA | 2020-03-07 04:37:58 | k***@technetics.com |
| i*** | we need zirconium base anodes basket for acid tin plating . | 2020-02-03 20:36:35 | m***@***.com |
| M*** | Dear Mam/Mr., I am Dr Rezayat from Sahand University of Technology, Iran. To work on a scientific project we need titanium G23 ELI in form of sheet with thickness of 0.3 or 0.5 mm. I would be so grateful if you pleas tell me the minimum ordering criteria and the price. I'm looking forward to hearing from you. Best Regards M***.Iran | 2020-01-15 18:58:11 | m***@***.ac.ir |
| G*** | item size Q'TY(ea) 1 W-sheet 1x500x1000 9 2 Mo Sheet(bright) 0.3x600x2000 13 3 Mo Sheet(Pickled) 0.3x600x2000 27 4 Mo Sheet 0.5x600x2000 20 5 Mo Rod dia 15.8x1000 10 6 Mo Rod Φ15 x 5 1046 7 Mo Rod Φ20 x 10 96 8 Mo Rod Φ30x12 12 9 Mo Rod Φ10 x 15L 432 10 Mo Rod Φ10 x 110L 187 11 Mo Rod Φ10 x 175L 46 12 Mo Rod Φ30 x 193L 6 please quote by Chinese won. | 2019-12-20 16:04:24 | c***@hanmail.net |
| G*** | I need one set of Tungusten mesh heater for our customer.I have a picture of the W mesh heater that I received from my client.If you tell me your phone number, I will send it to you.I will look forward to hearing from you as soon as possible. thanks, | 2019-12-20 15:58:25 | c***@hanmail.net |
If you are also interested with our Niobium Sheet, please visit our website www.hexonmetal.com for more information. If you have any query, please feel free to contact us at info@hexonmetal.com.