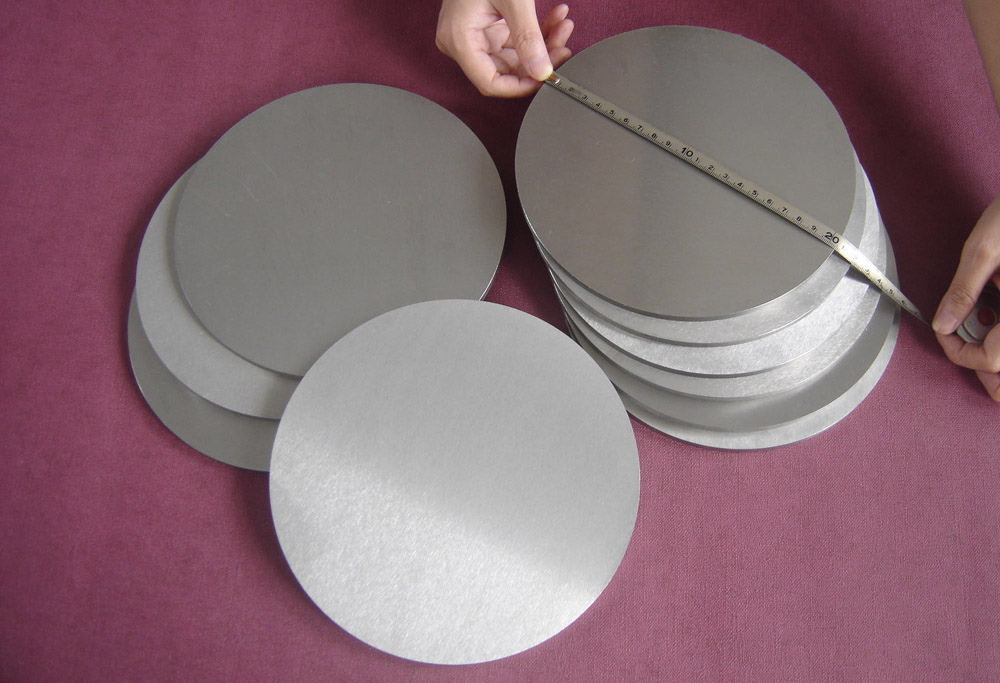 Niobium Sheet
Niobium sheet is the lightest refractory metal (density 8.57 g/cc) and has a high melting temperature (2,468ºC). This property allows its alloys to provide structural solutions at high temperatures: higher than 600ºC in nickel based alloys and as high as 1,300ºC in niobium based alloys.
Niobium sheet has physical and chemical properties similar to those of the element tantalum. It resists corrosion as it forms dielectric oxide film. The metal starts to oxidize rapidly in air at 200 ºC. Below -264ºC, niobium exhibits superconducting properties. It conducts high densities of electrical current resistance-free, creating magnetic fields and forces that yield important practical applications in areas such as medical diagnostics, materials research and transportation.
HEXON specializes in niobium sheet and its alloyed products, beginning from electron beam melted ingot to milling forms, as well as fabricated precision parts. We melt tantalum and niobium ingot twice by 300kW and 600kW EBM furnace. The two times of smelting in the high-vacuum, high-current-intensity and high-power EBM furnace ensure a homogenous structure, and dramatically reduce impurity content.
High Quality Niobium Sheet for Your Industrial Application
We at Hexon Metal Technology committed to supply higher melting point meals as well as alloy in different shapes that also ranging from micro fastener in grams to forged piece in ton. However, we follow the industry standards to meet our customer needs or we can also develop internal standard of the specific enterprise. Most importantly, we use advance technology for the manufacturing process and supply every product with high quality. We put much effort during engineering assistance as well as after-sales service so we produce better quality products always. Niobium sheet is one of the lightest refractory metal it has high melting temperature. At the same time, the property also allows its alloys to provide structural solutions at increasing temperatures.
Hexon Metal Technology is committed to providing the first class as well as value-added service to all the customers. In addition to this, our commitment is to offer a quick response to customers without delay. Additionally, we also offer a special discount for highly competitive products. Even we provide technical support and advice to solve customer issues in both product design as well as use. Therefore consider our quality products for different applications, we can change the shipping method based on your demand.
Niobium sheet is supplied with a cold-rolled and chemically-cleaned surface. Because of their strength and workability, very thin sheets of niobium can be clad to other surfaces, providing superior corrosion protection and cost effectiveness. Depending on your specifications and needs, all of our niobium sheet and plate are visually inspected for slivers, laminations, excessive roll marks and handling scratches.
Niobium sheet can be deformed very well even far below room temperature. Whether for punching, cutting, deep drawing or pressing: You can machine our niobium and tantalum sheets without difficulty to meet your specific requirements. Niobium is particularly corrosion resistant. Acids and bases can not harm our sheets. Sheets made of niobium and tantalum are used for example in the chemical industry for water purification or as diffusion barrier in x-ray machines. We supply niobium sheet in a length of up to 3.2 meters and in a width of up to 800 millimeters. We are happy to manufacture also tailored niobium sheet.
HEXON produce niobium sheet by vacuum electron beam melting technology. First, melt the not forging niobium bar into niobium ingot by vacuum electron beam melting technology. There are two ways of smelting, single smelting and multiple smelting. Usually we smelt two times, or it can be more than two times depending on the product specific requirements. Second, forging and axial breakdown niobium ingot and make it into niobium slab, then take it for annealing treatment and cleaning. After several times of rolling and annealing finally get the high quality niobium sheet. The unique way of rolling and annealing, temperature and time control that HEXON have guarantees the excellent quality. And our production of niobium in mechanical properties and microstructure is superior to other company's.
No matter what your end use is, HEXON's flat niobium sheet are manufactured to high standards which include ensuring that the material's metallurgy fits your specific requirements and application. HEXON can meet all common industrial standards such as ASTM B393 R04210 or the more stringent ASTM B393 R04200 Reactor Grade specification. We can also adjust the manufacturing process to tweak certain mechanical properties, grain size or even chemistry.
Our niobium sheet are cold rolled and vacuum annealed with proprietary reduction rates to ensure ideal metallurgy. Each sheet undergoes a stringent inspection for dimensions, surface finish, and flatness. Our niobium titanium alloys and ultra-high purity niobium sheet (R04220 RRR Grade) are engineered for superconductor, supercollider, and high energy particle accelerator applications. Whether you are building a tank in a chemical factory, coating glass for camera lenses, or building a super collider, HEXON has the right niobium sheet for you.
Our niobium sheet are used in a wide variety of industries including:
1) Industrial Synthetic Diamonds
2) Superconductor and Supercollider
3) Thin Film Coatings for Glass and Fiber Optics
4) Nuclear Reactor
5) Jewelry
6) Chemical Processes
7) Commercial Lighting (sodium vapor)