Titanium Medical Profile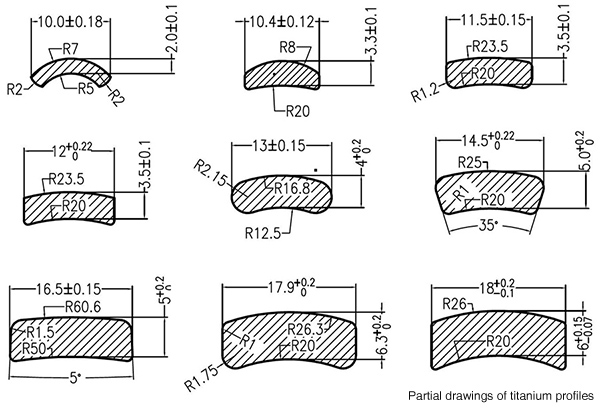 Titanium profile is a die rolled precision product especially used in orthopedics as implants. Usually we used Titanium Gr1 or Gr2 as raw material because of its outstanding deformability. Compositions and mechanical properties can be tailored against customer's specific requirements.
Thanks to our dedicated engineers, in order to suit customers' individual demand, we have successfully developed more than 50 different designs on titanium medical profiles. Partial designs are just as shown in picture above. More different dies and drawings are available up on request.
The readiness of various designs can save a lot of cost for our customers. Moreover, replying on our ongoing technologies, advanced inspecting facilities and experienced staff, we are completely competent for designing new and particular precision profiles against customer's specific drawings.
Features of titanium profiles
● Titanium Gr1, Gr2, Gr3, Gr4
● Produce by existed dies ormanufacture-to-order
● Net shape and tight tolerance
● Finished pieces are straightened, not wound and bent.
● Surface is acid cleaned and defect-free, without rolling marks, grease, scratches, dents, voids, and other imperfections.
● Length up to 3000 mm or cut to size
● 100% vacuum annealed to release inner tension
● 100% ultrasonic to eliminate cracks inside
● Chemical and mechanical made to order or against ASTM F67 or ISO 5832-2