Titanium rods CP grade (Gr1-Gr4)
Titanium commercial grade are commonly referred to as CP titanium. Titanium Grades 1,2,3,4 are all considered unalloyed CP grade and have similar properties.
Gr1 and Gr2 are the most widely used titanium alloys in all product forms for industrial and medical service, offering an excellent balance of moderate strength and reasonable ductility.
Gr3 offers optimum ductility and cold formability with useful strength, high impact toughness, and excellent weld-ability. Titanium Grade 3 is highly corrosion resistant in oxidizing and mildly reducing environments, including chlorides.
Gr4 offers reasonable high strength with good weld-ability. Good corrosion resistance in neutral to oxidizing environments, including chlorides.
HEXON can supply all CP grades titanium rods according to ASTM or AMS specification.
Chemical composition of Titanium CP grades
Specification

Grades

O

max

N

max

C

max

H

max

Fe

max

Ti

max

Residuals

max each

Residuals

max total

ASTM B348 / F67

Grade 1

0.18

0.03

0.08

0.015

0.20

Balance

0.10

0.40

ASTM B348 / F67

Grade 2

0.25

0.03

0.08

0.015

0.30

Balance

0.10

0.40

ASTM B348 / F67

Grade 3

0.35

0.05

0.08

0.015

0.30

Balance

0.10

0.40

ASTM B348 / F67

Grade 4

0.40

0.05

0.08

0.015

0.50

Balance

0.10

0.40
Mechanical properties of Titanium CP grades
| | | | | | | |
| --- | --- | --- | --- | --- | --- | --- |
| Specification | Grades | Condition | (MPa, min.) | (MPa, min.) | (%, min.) | (%, min.) |
| ASTM B348 | Grade 1 | Annealed | 240 | 138 | 24 | 30 |
| ASTM F67 | Grade 1 | Annealed | 240 | 170 | 24 | 30 |
| ASTM B348 / F67 | Grade 2 | Annealed | 345 | 275 | 20 | 30 |
| ASTM B348 / F67 | Grade 3 | Annealed | 450 | 380 | 18 | 30 |
| ASTM B348 / F67 | Grade 4 | Annealed | 550 | 483 | 15 | 25 |
Test reports of our Titanium Gr2 rods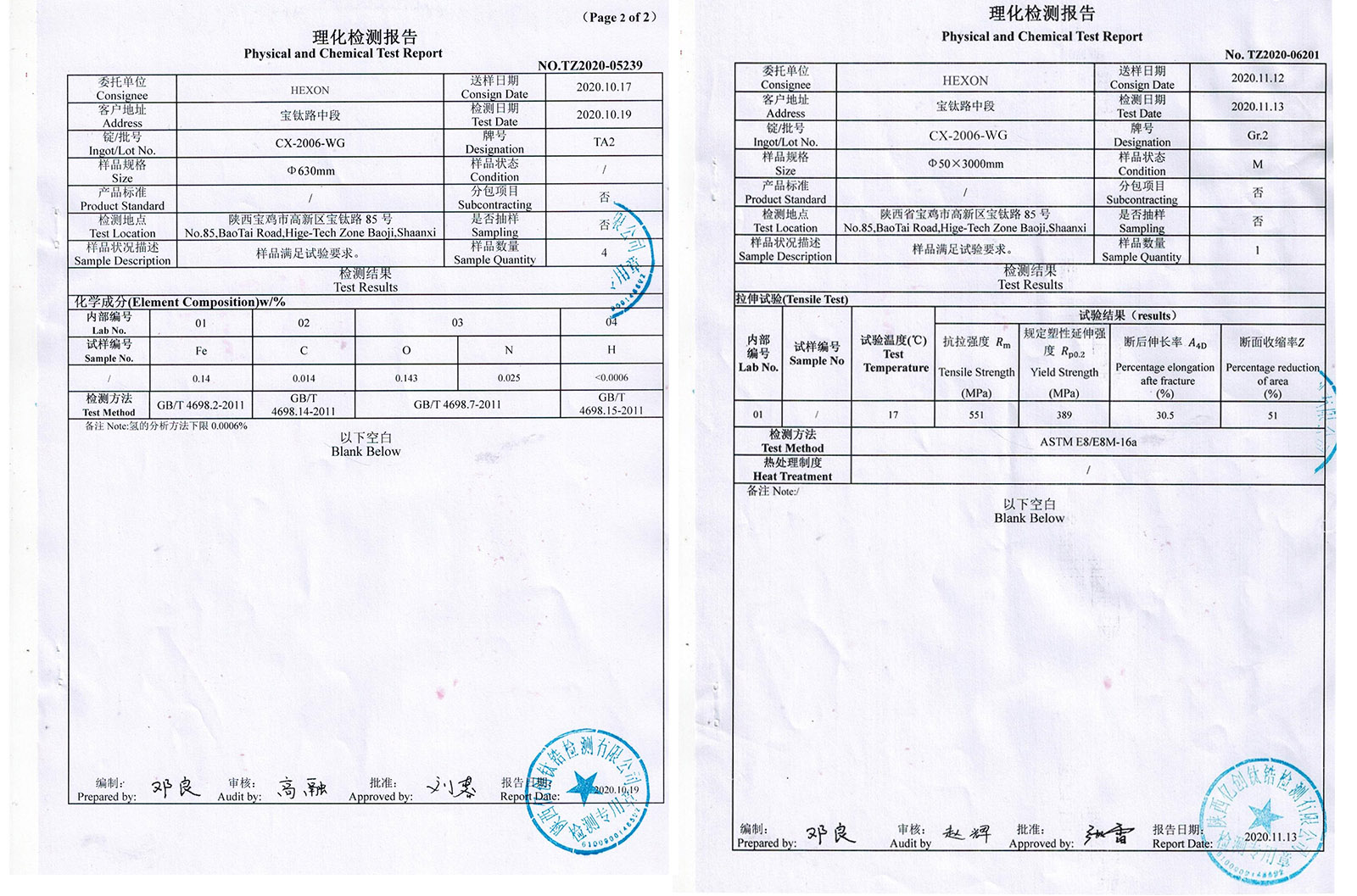 Size and Tolerance
● Diameter – 3 mm and above
● Length - from 1000 mm to 4000 mm (other sizes available per request)
● Straightness - 1 mm/1000 mm
● Tolerance of diameter – from h6 to h13 (e.g. h9 tolerance for Dia. 8 mm is +0/-0.036 mm)
Diameter

(mm)

h6

h7

h8

h9

h10

H11

h12

h13

Tolerance precision (μm)

3 Max

6

10

14

25

40

60

100

140

3~6

8

12

18

30

48

75

120

180

6~10

9

15

22

36

58

90

150

220

10~18

11

18

27

43

70

110

180

270

18~30

13

21

33

52

84

130

210

330

30~50

16

25

39

62

100

160

250

390

50~80

19

30

46

74

120

190

300

460

80~120

22

35

54

87

140

220

350

540

120~180

25

40

63

100

160

250

400

630
Delivery condition of Titanium CP rods
● Surface ground
● Annealed
● Laser marking with Heat / Batch number, grade, size, specification (or text given by customer)
Package & Shipment
● Plastic bag, PU foam are used to protect surface of products for interior packing
● Seaworthy plywood boxes screwed with iron belt fastened tightly
● Mode of transport:
A. By express such as DHL, FEDEX (door to door)
B. By airplane (airport to airport)
C. By ship (seaport to seaport)
D. By train (station to station)
E. Multi-way transportation up on request
Essential tests and Quality Assurance
● Chemical analysis - metallic (ICP-OES) and gas (gas analyzer) elements
● Mechanical properties - tensile, yield, elongation, reduction of area
● Ultrasonic - 100% NDT for inspecting inner cracks, pores and other defections
● Microstructure - micrograph image (100X, 200X, 500X)
● Dimensional tolerance - diameter, length, straightness, roundness
● Surface contamination - surface defects by visual check
● Hardness test - HB, HV, or HRC data reported
● Certificate - in house EN 10204 3.1 (traceable) / Third party (such as SGS) inspection